Accelerate the speed of booting your PC
Did you know?
Many programs designed to load automatically when you start your PC. While some of them are necessary for the proper operation of your computer, such as your antivirus or other PC optimization programs, others may prove to be useless and lengthen the Windows startup time. This is the case of residual and useless files left by an inactive program or program that you use occasionally.
Here are some tips to speed up the launch of my PC with PC Speed ​​Maximizer:
Practical tips
Do the spring cleaning!
The right thing is to first uninstall any programs you no longer use. They clutter your hard drive and waste resources.
To do this, go to the Windows Control Panel, click Program, and then Uninstall a program.
Use all PC Speed ​​Maximizer potential
PC Speed ​​Maximizer has a complete tool but easy to manipulate to limit the number of programs running during startup. Judge for yourself if you want a program to run at startup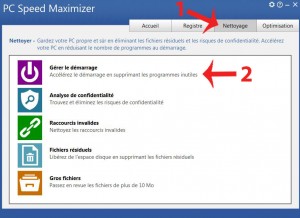 1 Launch the PC Speed ​​Maximizer Software
2 From under Cleanup, click Manage startup.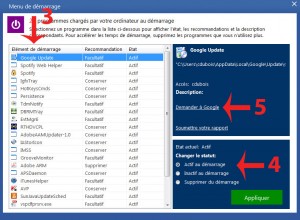 3 Displays a list of all programs loaded by your computer at startup.
4 Change the status of a program and decide to make or Off when Windows starts. Then click Apply.
5 A program is unknown to you? Recommendations help you to choose which programs to keep in the boot menu and those you can safely delete. Click Request to Google to get information on it before making it inactive.
Now you try!